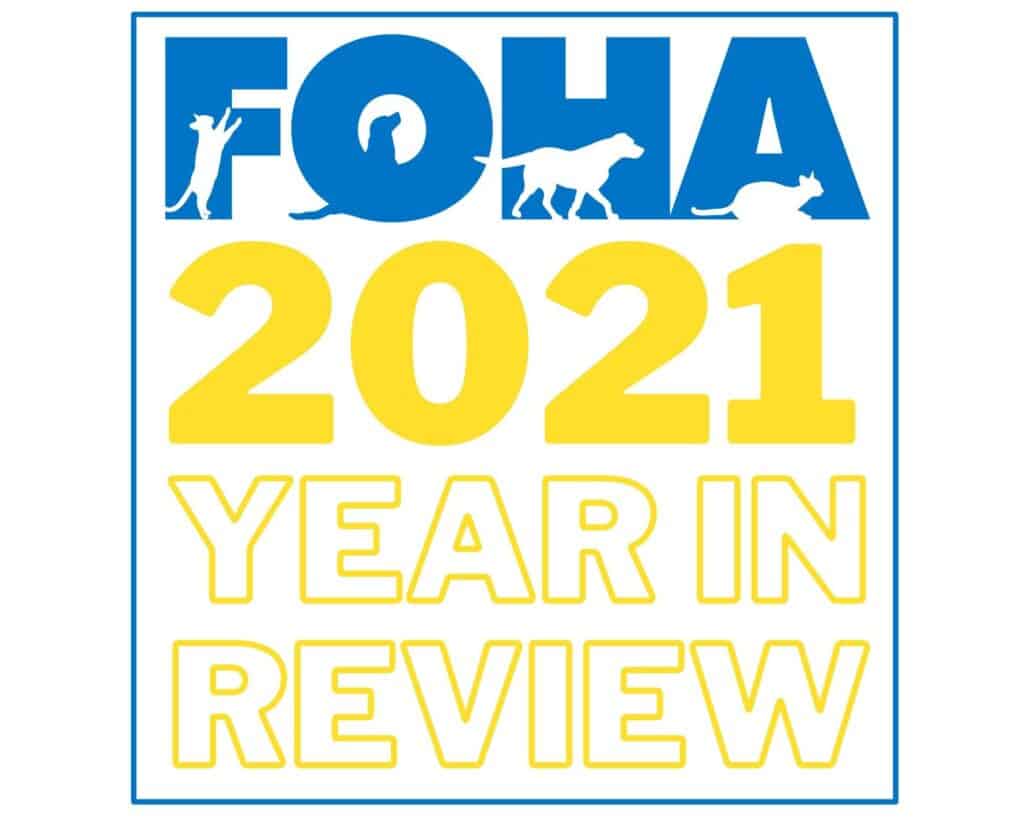 2021 Year in Review
2021 was yet again another year of significant change for FOHA, the country and the world. We all entered the year hoping for a return to normal and experienced anything but that. The year started with the continuing trend of increased adoptions and record high animal intake numbers month over month. But as the vaccines hit the market and people started to get back to travel, events, and school activities; adoptions started to slow down and the animal shelters started quickly filling up again and adoptions slowed down! But through this FOHA was able to adapt and experience a lot of success. Below is an overview of the accomplishments of our staff, volunteers, adopters, donors, rescue partners and community in 2021 –
Animals –
275 dogs and 154 cats/kittens found their forever homes – a total of 429 animals!

13 dogs were treated for heartworm disease.

16 senior dogs (8 years old or older) found their forever homes.

12 FIV positive cats were saved from shelters – 6 have been adopted!
Animal Care Successes –
Launched a formalized post-adoption support program made up of volunteers to support our adopters as they transition their pets into their homes

Again with the help of volunteers, launched our Diamond Dogs program to support our harder to adopt dogs and couple the adopters with an adoption advocate to support the adoption process.  Working on offering professional trainer support after adoption to support the transition of the dog to their new home and family

Developed new partnerships with rescue organizations to transport incoming animals directly to FOHA

Developed and launched a short term foster program to give animals a needed break from the shelter.

Created Cat Adoption Open Houses to increase our cat adoption rates.

Kicked off a new behavior program for our dogs with Positive Dog Solutions to develop programs to support our dogs' mental and behavioral well-being while in our care.
Technology –
Implemented a new shelter management system called ShelterLuv and have migrated all current animal records to this system.

Continued to expand our new website and donor CRM systems.
Volunteers –
Completed a comprehensive Volunteer Program Assessment to see where improvements are needed to support our volunteers.

Expanded our Youth Program.

258 new dog walkers were trained and 106 new cat snugglers were trained.
Development/Fundraising –
Awarded 3 grants – Pedigree, Grey Muzzle and Ursula Landreth grants

3 successful fundraising appeals, 2 giving days and 1 very successful auction were completed

Tails to Trails team and many from FOHA "Ran the Greenway" in May, bringing in much-needed funds for the dogs and cats

We started to participate again in events and went to many events this fall and were able to get many of our dogs adopted!
Facilities –
Winston Memorial Garden was planted at the Adoption Center.

The Pedigree Behavior Center was delivered and installed. We now have quiet space to perform training with our dogs.

Our new village was opened – Josh's Footprint! Dogs now have a space to get away from the stress of the kennels.

Major tree removal efforts were completed for the safety of our animals, buildings and people.

Kennel Building 1/2 received a new roof, new interior paint and new epoxy floors.

Our Solar Energy Systems continued to be expanded and upgraded.

The data collection phase for an eventual site plan of our 40 acres is underway and is the first step in our future development.
You might think with all of these accomplishments that we have nothing left to do! Well, we do have major goals for 2022 and cannot wait to share those successes with you.
What to look for in 2022 –
New Volunteer Management System and expanded ADP payroll capabilities for our employees.

Completion of the data collection phase of a site plan and further progress on our next building project, a new cattery.  .

Revamp our septic systems to meet County requirements.

Continue to increase adoptions – maybe hit 500 adoptions!

Enhance our Diamond Dog program and get several of our longer term dogs adopted.

Fully realize the potential of our new behavior program.

Add an online merchandise store to our website.

Continue to expand our volunteer program with a special focus on our Cat Volunteers.

An updated Strategic Plan for the next three years.
Everyone has put their hearts and souls into making FOHA the best temporary home for our animals. Your dedication to the animals and the mission of FOHA leave me in awe. Thank you to everyone that has made this year such a success! 
-Alison Maurhoff, Executive Director