Hello there!  I'm Samson!
I am strong, handsome and have a long luxurious coat that some wonder isn't the source of my great strength!  
While I haven't tumbled any buildings lately, I do use my awesome strength carrying sticks (sometimes two at once), twigs and logs of assorted sizes and shapes.  I love to hit the trails with those who have earned my trust, and along the way, I never miss an opportunity to swim in puddles, creeks and streams. If given a choice, every day, I would burn all my excess energy in the yard pushing the Jolly Ball around stopping only to share my affection with my closest and most trusted two-legged friends.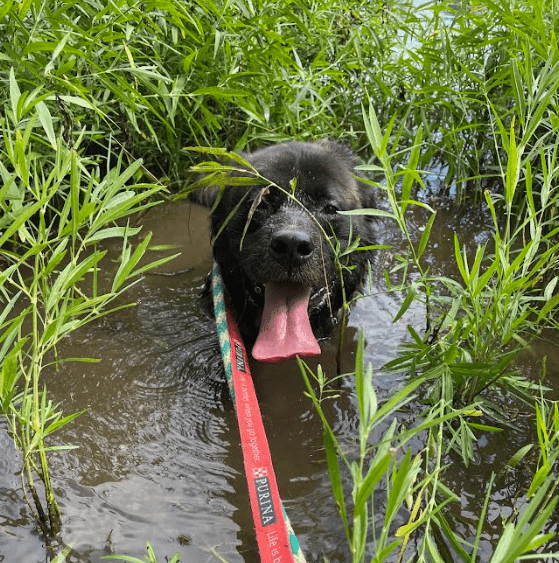 I am a regular at Tails to Trails and always hopeful of getting in a few miles each time we go out!  I am so much fun to take, I have friends to whom I am their "go to" guy for this special doggie activity. I have A LOT of energy to burn at first but settle down fairly quickly and walk well on the leash during these excursions  –  never pulling or aggressive towards the other dogs even at a somewhat close distance.
I really like riding in the car and always insist on riding shotgun so I can be petted during the trip.  Once we pull into the parking lot, I joyfully get into my friend's lap to share more love before we head out for our latest adventure!!
I have lived in a home before and am housetrained.  I would do well with an active family with no children, that has very few visitors and as the only pet.  I do not like being approached by unfamiliar people or dogs.  My dream home is in a rural area with a large fenced yard and a Jolly Ball to play with to my heart's content. I need many slow introductions to new people to feel comfortable.  
If you are interested in assistance with yard work, a companion to help you stay fit, and a playful, affectionate, all-around great dog then I am your guy!   It will take more than a couple visits from a very special, patient and experienced dog owner(s) to earn my trust, but I promise it will be worth it!  I cannot wait to start our adventure together!
Samson is sponsored by the Briggs Family.