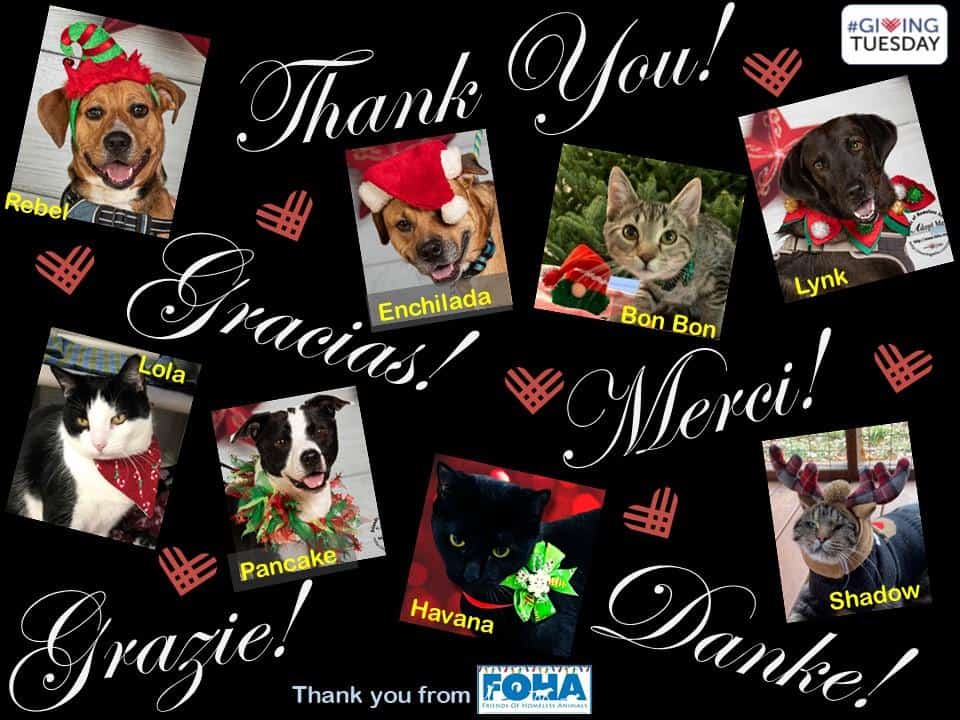 Dear FOHA Family,
Thank you for saving lives on Giving Tuesday! 355 supporters gave a total of $66,653!
We are truly blown away and so grateful for the outpouring of support for FOHA's dogs and cats on Giving Tuesday! Thank you for making our mission possible — "Home with us until they're home with you"
About half of FOHA's donations come in between Giving Tuesday and the end of the year. We count on your generous gifts at this time of year to rescue homeless dogs and cats going into 2022. And you can count on FOHA to provide a safe haven, love, medical care, and enrichment to the pets that join our FOHA family, until they find their forever homes.
Here's how you stepped up to help homeless animals on Giving Tuesday:
Facebook Fundraisers:

15 Giving Tuesday Fundraisers were set up by individual FOHA supporters, bringing in

$1,720
$7,624

came from FOHA's own Facebook Giving Tuesday Fundraiser. Special thanks goes to those who gave right at 8am to try to get a portion of the $8 million dollars that Facebook is matching. We won't know til January what donations qualified and will keep you posted.

Thanks to 15 West Homes Real Estate for fundraising for FOHA, bringing in

$165

!

NEW this year! – Instagram Fundraisers:

3 people set up their own fundraisers on Instagram and raised

$65

FOHA's own Instagram Fundraiser raised

$415

Thanks to your generosity, FOHA received 100% of the matching funds of

$15,300

donated by three generous supporters!

The balance of the donations came through our website

and by check.

.

351 amazing supporters gave a total of $65,963. As you can see, every donation, large or small, makes a difference in the lives of dogs and cats with no other options.
Compared to last year, our Giving Tuesday total donations increased by 10%, with 61% more generous supporters participating! We are headed into the holiday season and 2022 feeling grateful, inspired, and motivated. Thank you for giving the gift of life and love to abandoned dogs and cats!
With gratitude,
Stacey Gimbert
President