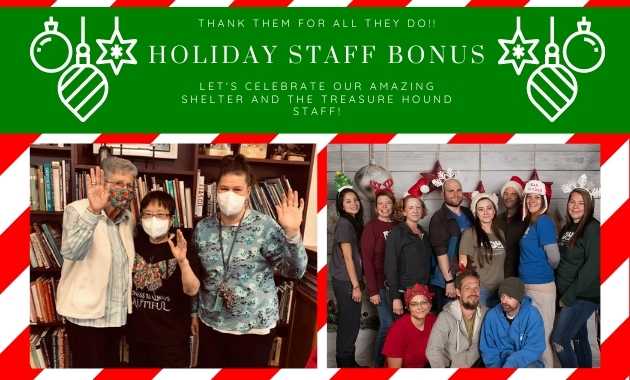 Each year at this time, we ask you to support the people that make FOHA's mission possible – FOHA's amazing staff. If you can, please donate here to recognize their dedication and commitment.
Shelter work is hard! Staff take care of our animals no matter the day, time, or weather. In addition to feeding, medicating, and cleaning, they oversee medical care, work with potential adopters, provide physical and mental enrichment, repair our facilities and equipment, ensure that our trails are walkable and roads are driveable, and so much more. This year especially, many staff members have stepped up as adopters and fosters. They truly care about the well-being of FOHA's dogs and cats.
The Treasure Hound is FOHA's largest donor, providing awareness and funds to help FOHA rescue dogs and cats. This support is a direct result of the hard-working employees. They sort through bags of donations, clean and research items to find the best price, display products, keep the store clean, help customers find that perfect item, and more.
You can donate here. If you prefer, you can mail or drop off your check at the shelter. Please write "staff holiday bonus" in the memo section. Thank you for remembering FOHA's staff at this time of year!