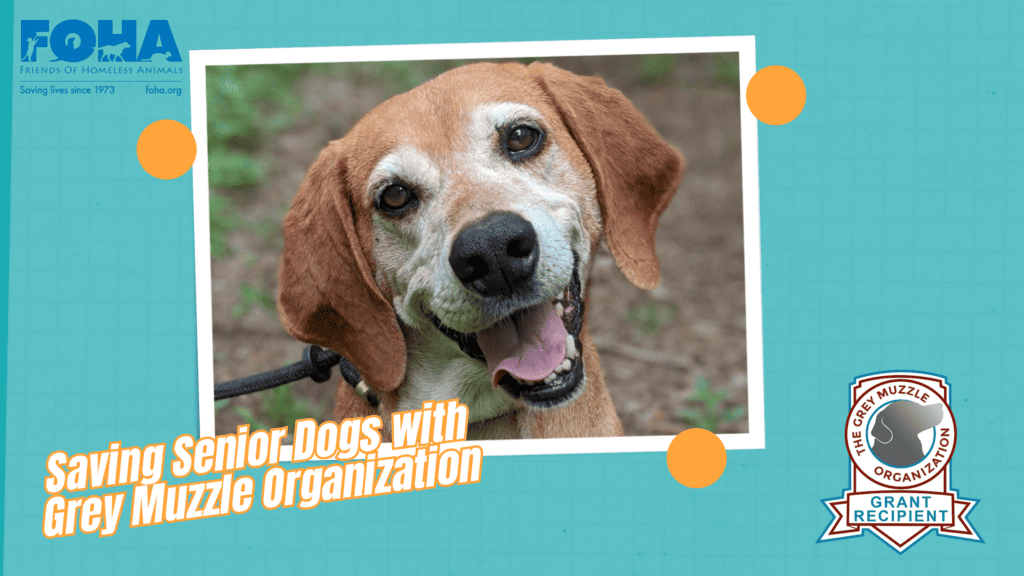 Senior dogs at FOHA fetch their third Grey Muzzle Organization grant! FOHA is very happy to announce that we have received a $10,000 grant for 2023-24 that will allow us to extend our current Senior Care Plan to include more dogs. 
Thanks to our relationship with Grey Muzzle, FOHA has been able to increase the number of senior dogs available for adoption this past year and find homes for more senior dogs. Twenty-two of FOHA's senior dogs found their forever homes in 2022 thanks to our partnership with GMO. This third $10,000 grant will help us continue to intake more senior dogs and will  support our Senior Care Plan for seniors once they are adopted. Our goals for this grant are to remove barriers to adopting older dogs and lowering the risk of shelter returns due to the possible financial burden of medical care.  FOHA's goal is to provide support for about 24 dogs in 2023-24.
FOHA is one of 90 animal welfare groups chosen from 370 applicants to receive a grant to help local senior dogs. The winning groups received $848,000 in grants to help save or improve the lives of at-risk old dogs in their communities.
Grey Muzzle Organization is a national nonprofit which has provided over the past 14 years more than $3 million in grants to support its vision of "a world where no old dog dies alone and afraid." The organization's Executive Director Lisa Lunghofer said that, "Thanks to the generosity of our donors, we're delighted to help deserving organizations like Friends of Homeless Animals make a difference in the lives of dogs and people in their communities,". "Many senior dogs in Virginia are enjoying their golden years in loving homes thanks to the wonderful work of FOHA."
The national nonprofit The Grey Muzzle Organization improves the lives of at-risk senior dogs by providing funding and resources to animal shelters, rescue organizations, sanctuaries, and other nonprofit groups nationwide. For details, please visit www.greymuzzle.org
To learn more about FOHA's Senior Care Plan, check out our website at https://foha.org/pet-adoption/#senior.