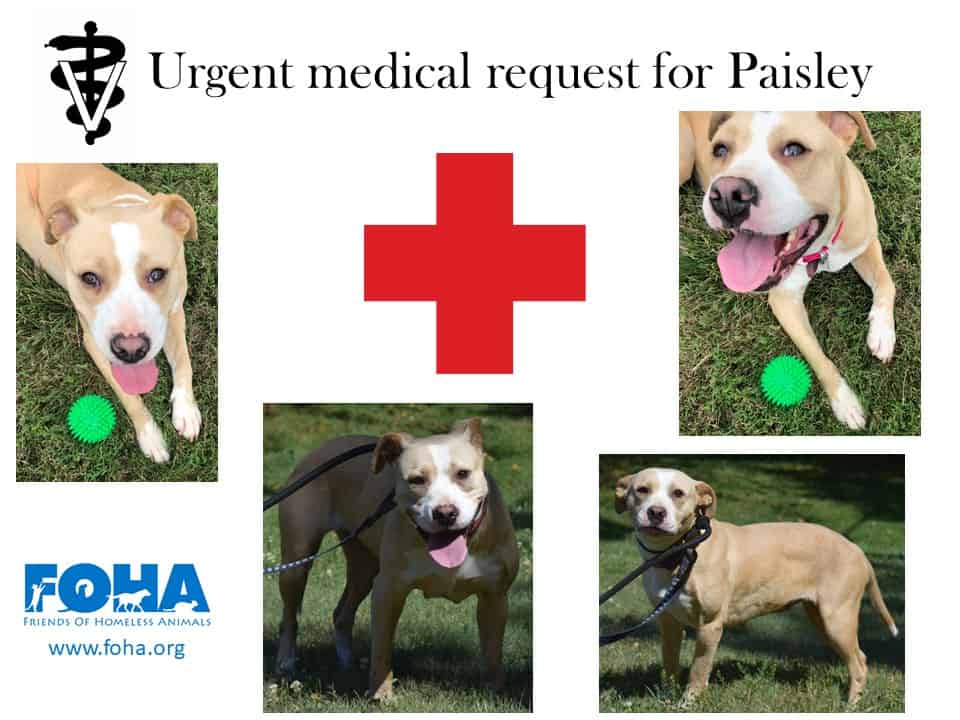 THANK YOU to all who donated to help Paisley heal.  Your generous donations totalled over $10,000 and will fully cover Paisley's medical costs.  Special thanks goes to our matching gift donor who will match $5,000 from this campaign.  FOHA's amazing family has come through again.  Sweet Paisley will live her life free from the pain she's had to endure for the last year, and she has found a home! 
I came to FOHA in August from southwestern Virginia. In the transport I got to sit in the front seat.  Once I arrived at FOHA, they noticed I was limping and walking slowly.  The FOHA vet thinks I was side-swiped by a car that injured my hip and I landed hard on my elbow.  The vet believes I lived in pain for a year.  Despite the pain, everyone at the vet's office is amazed how sweet I am.  They said I've made it through the year "with grace". I just knew I walked funny and it hurt.
 FOHA didn't know any of this when I arrived but I sure did come to the right place! Now I'm finally being taken care of.  I've successfully had hip surgery and I'm recovering quickly.  My foster mom says I wake up every day like it's the best day ever, and that I have a sunny personality. I've been taken in and treated like a member of a family and am being given much love.
Now I need an elbow replacement. All this will cost FOHA close to $10,000 in medical costs.  I'm ready to recover and find my inner puppy again.  Please click here if you can you help with my medical costs.
I'm smiling because I'm finally starting to know what it's like to be pain free — to play ball, run (a little), and express my goofball self. Thank you for helping me heal.