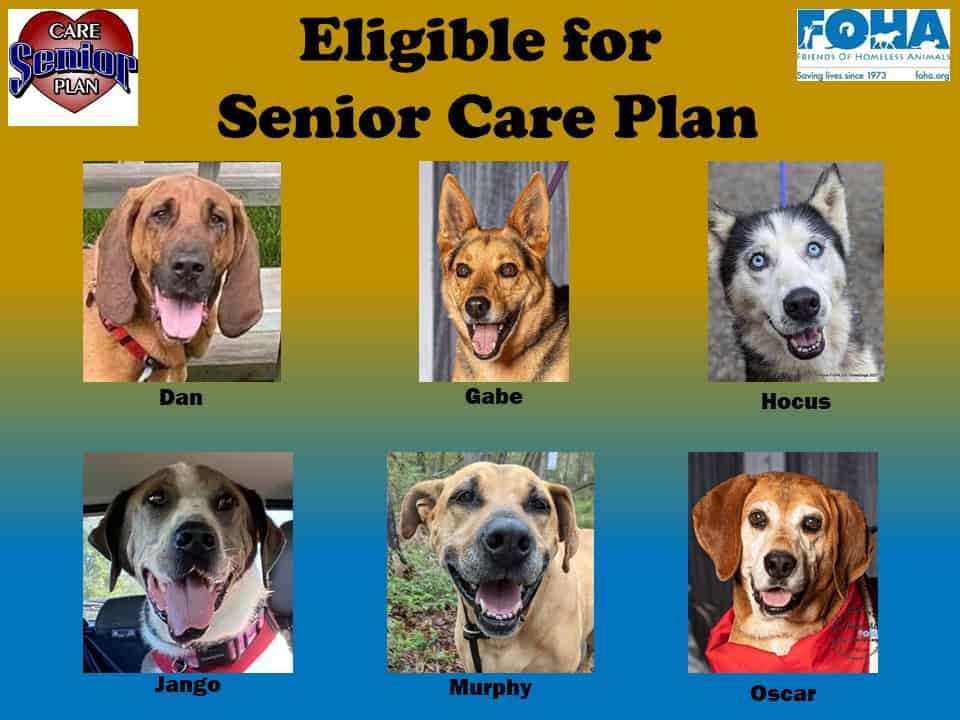 Save a life and make your own better by giving an older dog or cat a home during national "Adopt a Senior Pet Month" this November.  Many senior dogs and cats are waiting in shelters right now, hoping to be part of a family again. 
Puppies are cute, but older dogs are adorable, usually more mellow and housetrained, too.  With a senior dog, what you see is what you get in size and personality. 
Your act of kindness could also benefit you.  A dog can help ease loneliness and isolation. Taking walks together is a great way to get exercise and meet new friends. Just petting a dog lowers blood pressure.
Friends of Homeless Animals (FOHA) in Aldie, Virginia has some wonderful older dogs ready to go home with you! FOHA also offers a Senior Care Plan to families who adopt our senior dogs. The plan waives adoption fees and provides financial support for eligible medical care (up to $1500). You can be a hero by giving a senior pet the chance to love and be loved again. In return, you'll receive the unconditional love and companionship of a very grateful dog.
The Grey Muzzle Organization, a national nonprofit that gives grants to animal welfare groups to help save senior dogs, envisions a world where senior dogs thrive and no old dog dies alone and afraid. Please help make that dream a reality by opening your heart and home to an older dog. FOHA is a recipient of a grant from The Grey Muzzle Organization to help older dogs find, and stay in, homes.