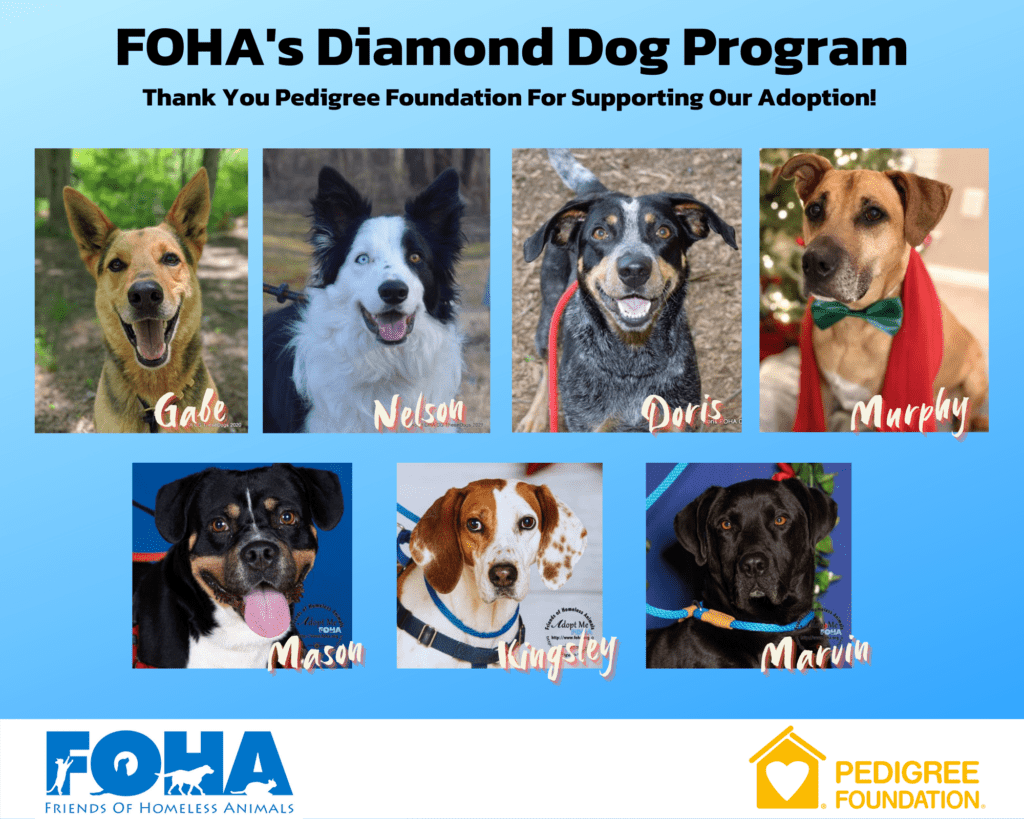 So many dogs are overlooked by possible adopters because of behavioral issues that, with the right support, can be addressed and resolved. FOHA is taking on this problem with its newly created Diamond Dog Program. AND, we are thrilled to announce that Pedigree Foundation has awarded FOHA a $15,000 grant in support of our efforts. The photos above are just a few of the many FOHA dogs that will benefit from the program.
After an extensive application and interview process, FOHA was awarded a Pedigree Foundation grant to support our Diamond Dog Program!
This much needed support will go toward the development of a three-fold program for our dog "diamonds in the rough" that includes: 1) behavioral plans and post adoption support to address specific issues, 2) volunteer and staff training for "advocates" for individual dogs, and 3) specialized marketing to support their adoption.
Alison Maurhoff, FOHA's Executive Director, says, "As a no-kill shelter it is imperative that we take a comprehensive approach to support our animals' physical, mental and behavioral needs. With the grant from Pedigree we are now positioned to be able to provide even better behavioral training and assessments for our dogs to reduce the amount of time they are in the shelter, increase the likelihood of a successful adoption match and improve successful transitions into family life." Board President, Stacey Gimbert commented, "FOHA is so honored to be awarded our second grant by the Pedigree Foundation. They truly care about the well-being of all dogs."
This is the second Pedigree Foundation grant that FOHA has received. In 2019, FOHA was awarded $10,000 which was used to purchase and complete The Classroom, a special distraction-free space for training, adopter meet & greets and administrative work.
The Pedigree Foundation believes every dog deserves a loving, forever home. PEDIGREE Foundation is an independent 501(c)(3) non-profit organization working to help end pet homelessness. About 3.1 million dogs end up in shelters and rescues every year and too many never find a home. The foundation was established in 2008 by Mars Petcare, maker of PEDIGREE® food for dogs, to help increase dog adoption rates. We've awarded more than 5,800 grants and nearly $10 million to U.S. shelters and rescues that help dogs in need. At PEDIGREE Foundation, we're working toward a day when all dogs are safe, secure, cared for, fed well and loved. See how you can help: PedigreeFoundation.org