Hi all!
My name is Nick and I am a sweet and playful boy looking for my forever home. I enjoy the company of people and other cats, although I'd prefer only one feline roommate please (or I'd be fine being your one and only). I'm taking a break from communal living at the shelter in a foster home right now and am loving my own space. I am not shy at all and love to explore new spaces, climb cat trees, and chase after my favorite toys. My most favorite is the wand with the feather toy at the end that my foster mom makes fly through the air. I can get some serious air chasing that thing! I love to "hide" in soft cubes or other spaces to try to get the jump on those silly feathers. My other favorite activity is looking out the window. I keep a good eye on the neighborhood and think it's great to see the wind blowing the leaves, birds flying or hanging out in trees, and humans and their dogs strolling by.
I'm not a big cuddler, but very much like to be near my human. I enjoy some pets, getting picked up for a quick snuggle, and will occasionally sit on your lap but am not looking to be a lap cat. I stick fairly close though and will often curl up near you on the couch or snooze by your feet if you are sleeping. I am a master head-butter and have a stupendous purr machine. In my strive for affection and showing you how happy I am that you're nearby, I may just head-butt you off your feet (you've been warned that I'm serious about my head butts). And, I'm not shy about telling you if you aren't giving me the right amount of attention.
My favorite new activity is laying on my back and letting my foster parents wiggle my back legs. I'm so GOOFY! I also like to grab human feet because I want them to play with me and never want them to leave. Here's a picture of me requesting to play "grab my feet"!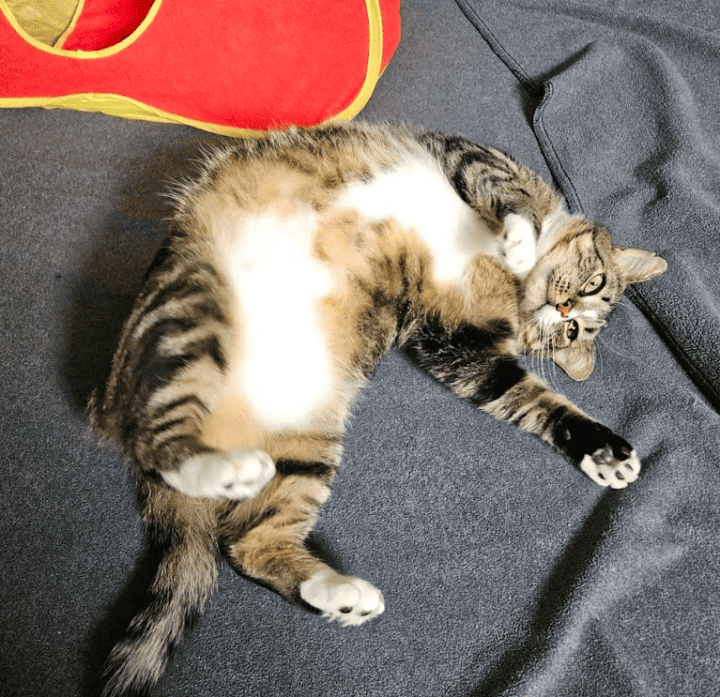 If I may say so, I am a total hunk with striking coloring along my back and sides (I'd like to think I have some panther or Bengal blood in my ancestry). Fair warning though, I just happen to be a bit hefty at the moment. I enjoyed the unlimited buffet in our communal cat house at the shelter maybe too much but I'm working on it. Being on the somewhat chunky side hasn't diminished my interest in playing at all. Maybe you need a work-out buddy? You work on your arms making that feather toy fly and I'll chase it and jump around.
There is something else that I also need to share with you. I have FIV, that's what I have but it is NOT who I AM! Please don't let that scare you away. FIV+ cats can and DO live long, healthy, and normal lives when given the chance. In fact, statistically, most FIV cats live as long as their indoor counterparts (13-18 years), and much longer than cats that live outdoors (3-8 years). There are many reported cases where FIV+ cats live well into old age without ever showing any symptoms.
It's important to note that dogs, other pets, and humans are absolutely immune to FIV. The virus itself is astonishingly frail and can live outside of the body for only a few seconds. The virus is also extremely slow-acting, so it is unlikely to pose any threat to other cats in the household. So, other than my present chunkiness, I'm fit as a fiddle.
I know that adopting an FIV+ cat may seem like a big responsibility, but I promise that I am worth it. I am a sweet boy who just wants a warm and safe place to call home. If you are willing to give me a chance, I promise to bring you years of joy and companionship. So please come and meet me, and see for yourself that FIV+ cats are just as wonderful and deserving of love as any other cat.